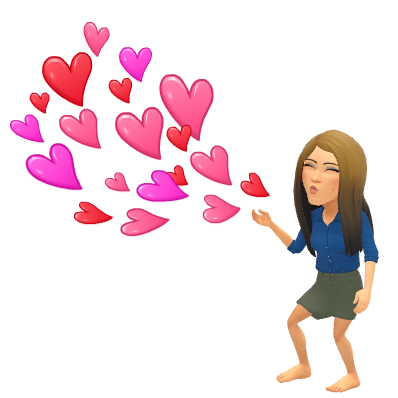 FishKiss
Happy February Everyone!  I am so happy to be entering this lovely month and FINALLY be out of long, cold, January!  Since I just LOVE tech so much, I figured I would fill the blog this week with some techy stuff  I love.
Google ANYTHING 
Passwords
The first thing I love – with Tech – is Google and all of their innovation! This week, on Tuesday, Google released a pretty hot extension: Password CheckUp.  This amazing little extension, made by Google, will let you know if your password has been breached. Pretty innovative right?  Read more about this amazing little nugget here, and install the extension from the Chrome Web Store here.
Transparency
More than anything, I enjoy playing with all of the little things that you can do with Google Apps.  Fonts, tables, colors, add-ons, etc. its just so much fun! Recently, I was playing around with transparency and auto shapes. Check it out below, it's a BLAST.
Sharing is Caring 
Are you looking for another option for student expression? This past week I was worked with Sarah Trainor and Kerri Trumbull, respectively. Sarah showed me a tool that I hadn't seen before, Kidzoa!  Kerri and I through our work discovered Flipsnack together. Check out both of these great tools below – you may find them to be a great option for student expression!
Kizoa
Kizoa is a really cool, free, easy video making service! It was brought to my attention on Sarah Trainor's Zombie Choice Board this week. Check out this neat activity, I'm sure the kids will be engaged! Her students LOVED it!
Flipsnack
Flipsnack is a REALLY neat, free, site that allows you to make brochures, flyers, and books that are 3d, meaning you have virtually turning pages.  This would be really cool for a brochure of some sort or flipbook. You get 3 free products before the pay structure kicks in, BUT, you can delete a project and make another.
Valentines and FUN 
Eric Curts is my NUMBER ONE all-time favorite Tech Blogger.  He always puts out the most awesome ideas AND he encourages you to use them, share them, manipulate them and tweet them. He's so very collaborative and really believes in the "together we are better" mentality, which is huge for me.  This week, in his own blog, he shared some Valentine's day tech and also sent the link to ETCH-A-SKETCH! YES!!! Virtual Etch a Sketch – HOW FUN!
Check out his great Valentines Google Activities Here
Tip of the Week: USE THAT OMNIBOX 
Want an even quicker way to search your Drive? check it out below!
What kind of tech do you just LOVE? Let me know!
Have a LOVELY weekend! ♥️
oFISHally Yours,
Erin Fisher 🐟 🐟 🐟