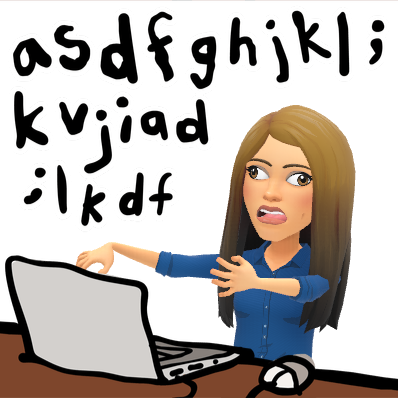 May…my goodness, are you feeling it?  This has been the quickest, yet slowest, and certainly most challenging year!  It has been quick in the regard that we were always changing, keeping up, and doing our best to get things working the way we needed them to. We adapted!  It has felt slow due to the isolation and lack of socializing we've experienced this past school year.  I really miss seeing you in person!
In my opinion, the overall theme this year was maximizing our strengths so we could be most efficient and work smarter. We were already working as hard as possible.  Now, that we are in May, I don't think anyone, or anything, is feeling the bulk and load of the year as much as the devices we're on!  Have you noticed?  Technology seems to be running a tad slower with a few more disruptions as of late. I think the load of this year, combined with the rapid pace of updates being released, has slowed down our devices.  FEAR NOT, there are some tips and tricks we can put in place to speed things up and be more eFISHient! 🐟 🐟 🐟
UPDATES!
So many of the technical problems I've fixed this year are due to updates that haven't been installed. More times than not, it's a hidden Windows update! Google has also been pushing out updates at a rapid pace, so students have really needed to be on top of the most recent updates in order for their devices to run eFISHiently.
Update Chrome
Google has been pushing out so many updates this year. Even though Chrome should just pull the most recent update, this isn't always the case with the number of updates that have come out.  Manually checking for updates every once in a while is sure to boost your devices' productivity.
Update Windows
Windows updates can be sneaky!  There are even optional updates that can hide and affect our devices. If you do not restart your device, you will surely get behind in updates and this can cause larger issues.  Take a look at the tutorial below which quickly goes over how to update your Windows 10 device.
Clear those Cookies
Clearing your browsing data will certainly make your device run quicker.  Do yourself a favor and clear it out from ALL TIME, especially if you've never done it.  Have your students do this too – it will help a great deal with how the devices run.
Clean out Classroom
By this time in the year, your Google Classroom is loaded with an extreme amount of content.  Every time a student loads Google Classroom, they are loading all of that content from the beginning of the course.  This may take the device, especially older Chromebooks, a significant amount of time.  As we know, time is a commodity in education and sometimes we simply don't have it. We need things to load, and we need it NOW! I hate telling teachers to clean out their classrooms, since we can reuse them next year, however, consider "cleaning" it up.  If there are items you may not need for next year (due to the unique nature of this year), clear them out.  Clear out extra topics, emojis, and clutter.  This will help Classroom load a bit quicker on the student end.  If you still find that Classroom is slow to load, consider starting fresh and having students join a new classroom. I promise you – it will load super quick!
Uninstall Chrome Extensions
The more extensions you have running on your Chrome Web Browser, the slower it will run.  Also, some extensions contain "bugs" and may infect your computer. If you've had popups or other programs not running, a bad extension could be the culprit. You can simply right click on an extension and click uninstall or you can try Extensity which is what I like to use (see below).  With Extensity, I keep all of my extensions yet only a few are running. This keeps my web experience running at a fast pace.
Clear those Downloads
Again, this is another task you can complete to make your device run more efficiently. Think of all the items you may have sitting in your downloads. Be sure to upload the files to your Drive or back them up another way before clearing them out if they are files you need!
On a PC
On a Chromebook
I hope these little tips help! What helps YOU to operate more efficiently? For me, it's a good 5 mile run

🏃‍♀️

. Clears my head and allows me to decompress. Be sure to take care of you, so YOU can also be eFISHient!

❤️️
Take care, everyone!
oFISHally yours,
Erin Fisher

🐟

🐟

🐟